Welcome to your ultimate how to start a blog in Australia guide. Here I will take you step by step through setting up your blog and then give you the resources to continue running a successful blog for many years to come.
If you're looking for a more substantial course on learning how to build and grow the online business you've always wanted then you'll love my course on Teachable.
There are only 5 easy steps here to set up your own blog and I've made it as simple as possible so you can get started immediately.
Step 1: Choose and register your business name in Australia
Step 2: I've found some excellent value hosting for you
Step 3: Choose your hosting plan in Australian dollars!
Step 4: Set up your domain name for FREE
Step 5: Fill in your details and you're done! (So easy as HostPapa will set up WordPress for you.)
Your first steps in starting a blog are to:
Choose a Business Name This might not be as straightforward as you think!
If you are going to call your blog/website anything other than your own name then in Australia you'll need to register your business name. You need a registered business name to get a domain name ending in ".com.au"
If you're just starting and haven't registered your domain name yet then I recommend waiting until you choose your hosting with HostPapa as then you'll receive a FREE domain name in the process.
Apply for a business TFN (Tax File Number)
Register for GST and PAYG, if applicable
Open business bank accounts
Now for hosting I also choose HostPapa because they are so easy for beginners to start a blog with and have great support, the best pricing for service and overall service I can find for Australians.
They are also the first in the green web hosting industry – by offering reliable, green web hosting at very affordable and competitive prices.
Included in their package pricing is carbon-neutral hosting, unlike other hosting companies that charge extra for that privilege. In fact, they run their whole business as a 100% renewable energy operation. Gotta love that!
But wait, there's more – included is over $400 worth of bonuses –  these are Google ad credits, SEO tools, and their easy to use HostPapa Website Builder.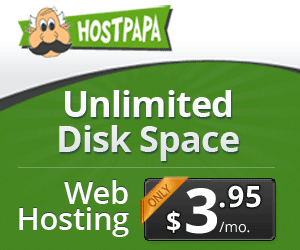 Their packages also include:
A free domain name
Some hosting companies require you to purchase your domain name elsewhere, but with HostPapa it is included.  You can also transfer an existing domain name purchased elsewhere over to HostPapa easily too if needed.
Free SSL Certificate 
This keeps your website safe and makes Google take your blog seriously so it can rank it for searches. The SSL certificate shows by adding the small lock next to the website URL in the address bar.  Other hosting companies sometimes make you purchase this separately, but with HostPapa it's included.
24/7 support
Their customer support is second to none. They are always prompt and helpful and they have the most comprehensive set of tutorial videos I have ever seen. Click on one of those titles and you'll see what I mean.
Free Website builder with Free WordPress setup Included
HostPapa offers a free website builder for the first 3 pages and it can't get any easier.  One-click and you're on your way!  There's not much work to do to get set up for WordPress. HostPapa provides a backend built for one-click installation of WordPress.
---
OK, let's start a blog!
Step 1: Let's get some hosting
The first step is to choose a hosting package.
To sign up with HostPapa, simply go to HostPapa or click on the image below.
This is the page that will greet you.
Click "Get Started" if you're happy to continue.
Then you will need to pick one of the HostPapa Hosting plans.
Step 2: Choose a Hosting Plan
I recommend choosing the 'Business' shared hosting plan. The 'Basic' plan is a good option when you're just starting and don't yet have a ton of traffic to your blog but the business plan offers more and is on sale. If you do choose the 'Basic' plan you always have the option to upgrade at a later date.
There's a great deal at the moment – 72% off the "Business" hosting plan, so you get the business plan for the same price as the basic, only $3.95 per month!
HostPapa is also great if you're thinking of starting a shop/e-commerce website – they take you step by step on everything you need to know to set up your new shop.
But of course, you can select a different package if you choose.
Then click "Get Started" on your chosen plan, and then proceed to step 3 to create your domain name.
Step 3: Set a Domain Name
After choosing your plan, the next step will be to choose your domain name.
Extra tips for your domain:
Register as many domain versions as you can to protect your business. eg: .com.au .com .net
Your domain name should be short and easy to remember.
Use your keywords in your domain name. Create and use a favicon to distinguish your business.
Register for 3 or more years at a time.
Use your domain name for business emails
If you are starting a new blog and you want to set up a domain name with HostPapa simply enter your chosen domain name otherwise click the tab "I already own a domain name" add your existing domain name into the area and choose whether or not you would like HostPapa to transfer the domain for you. Follow the prompts.
Click "Get My Domain".
Step 4: Fill in Your Details
The next step is to simply fill in the required information. You'll need to provide your first name, last name, country, street address, city, postcode, phone number, and email address.
Note that your receipt will be sent to the email address you enter.
Step 5: Check Your "Order Details" and complete your Registration
The account plan will automatically be set to 3 years as this is the cheapest option.
You can change that if you prefer.
But remember you will save more money by selecting a longer plan.
Then scroll down to select your package extras.
These are things to consider for your individual circumstances:
My personal preference is to choose the Protection Power Website Security and Automated website backup.
You don't really need any, so don't feel obliged to get them and you will save money by not ticking any too.
Do note that HostPapa bill the amount indicated annually.
Also, HostPapa has a 30-day money-back guarantee, so you can always opt-out during that time.
Scroll down, tick the acceptance box, then press "Place Your Order".
And that's all there is to it – you'll receive an email with your confirmation and the details to log into your account. Congratulations! Your WordPress site is now up and running!
If you have any concerns or trouble AT ALL HostPapa will help you. They will set up WordPress for you if you need it and will help you at every step if a problem arises.

They are truly the best hosting company I've worked with and their support is second to none.
They have a terrific series of videos that take you through an array of their services and products too!
Now that you've got your site set up you'll need to populate it with the content of your choice.
I suggest you read my next steps to make populating your website as easy as possible. I also recommend you sign up for the 5 part series below. I'll help you make your website everything you want it to be – step by step.
I'll help you …
Access templates to complete your privacy policy, terms & conditions, copyright and more!
A website checklist to make sure your blog works professionally
A list of ways you can start to monetise your blog immediately from day 1!
An actionable marketing plan for a reliable strategy with proven success and a schedule for a social media marketing blitz
Sign up for my totally FREE


5 Part Series on How To Improve Your Website

now.
It will make organising your new blog much easier and you won't have to make the mistakes most other bloggers make when starting out!